We Are The World (Haiti, 2010)
El 28 de enero de 2010 se cumplieron 25 años de la grabación de la canción «We Are The World» por parte de muchísimas personalidades importantes de la música del momento, encabezadas por los escritores Michael Jackson y Lionel Richie. Y como en ese entonces se realizó para combatir el hambre en África, especialmente en Etiopía; este año se realizó para ayudar a Haití, quien recibirá todo lo que se recaude gracias a esta canción.
Un par de datos interesantes
A la letra original, sólo se le agregó un rap realizado por Will.I.Am, de Black Eyed Peas. Imagino que para poder juntar a varios raperos muy famosos en Estados Unidos, que no podrían cantar mucho sino.
Entre los que más cantan, van a ver a Wyclef Jean, ex miembro de The Fugees, quien nació en Haití
No sólo había cantantes en el grupo total, sino también algunos actores, como por ejemplo Vince Vaughn y Jeff Bridges
En una parte de la canción, como menciono en quién es el artista, Jamie Foxx canta imitando a Ray Charles, a quien interpretó en la película sobre la vida del famoso músico.
En el video oficial en YouTube, el que muestro en este post, te invitan a formar parte de esta canción, cantándola y subiendo el video como respuesta.
Por si no lo conocían, el chico que abre la canción, interpretando la parte que 25 años atrás la llevó a cabo Lionel Richie, se llama Justin Bieber, es canadiense, tiene 15 años y fue descubierto en YouTube por quien ahora es su manager.
En más de una parte del video, toman videos de archivo para hacer participar a Michael Jackson en el video.
A continuación les dejo el video de Artists For Haiti (Artistas por Haití), que si pueden, recomiendo disfrutar en calidad máxima (1080p). Puede tardar, pero lo vale.
Mientras esperan, tras el video, figura la lista de los cantantes, y más abajo, la letra junto con el artista que canta cada parte.
Espero que les guste tanto como a mí, sinceramente me emociona ver a tanta gente tan importante, unirse por un bien común. Y si vos querés y podés, doná, hay muchas formas, por ejemplo, a través de La Cruz Roja, o UNICEF (o por teléfono), entre tantos otros. Eso sí, cuidado con los engaños, que hay muchos dando vuelta.
El Video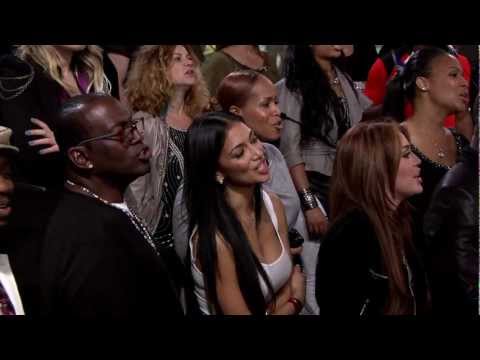 Los Artistas
Directores
Quincy Jones
Lionel Richie
Solistas, en orden de aparición:
Justin Bieber
Jennifer Hudson
Nicole Scherzinger
Jennifer Nettles
Celine Dion
Josh Groban
Tony Bennett
Mary J. Blige
Michael Jackson (material en video)
Janet Jackson
Barbra Streisand
Miley Cyrus
Enrique Iglesias
Jamie Foxx
Wyclef Jean
Adam Levine
P!nk
BeBe Winans
Usher
Celine Dion
Orianthi (guitarra)
Fergie
Nick Jonas
Toni Braxton
Mary Mary
Isaac Slade
Lil' Wayne
Carlos Santana (un solo de guitarra)
Akon
T-Pain
LL Cool J
Will.I.Am
Snoop Dogg
Busta Rhymes
Swizz Beatz
Iyaz
Kanye West
Coro
Patti Austin
Bizzy Bone
Ethan Bortnick
Jeff Bridges
Zac Brown
Brandy
Kristian Bush
Natalie Cole
Harry Connick Jr.
Hayden Panettiere
Kid Cudi
Faith Evans
Melanie Fiona
Sean Garrett
Tyrese Gibson
Anthony Hamilton
Keri Hilson
Julianne Hough
India.Arie
Randy Jackson
Taj Jackson
Taryll Jackson
TJ Jackson
Al Jardine
Jimmy Jean-Louis
Ralph Johnson
Joe Jonas
Kevin Jonas
Gladys Knight
Benji Madden
Harlow Madden
Joel Madden
Katharine McPhee
Jason Mraz
Mýa
Freda Payne
A. R. Rahman
Nicole Richie
Raphael Saadiq
Trey Songz
Musiq Soulchild
Jordin Sparks
Robin Thicke
Alex Williams
Rob Thomas
Vince Vaughn
Verdine White
Ann Wilson
Brian Wilson
Nancy Wilson
Nipsey Hussle
Fonzworth Bentley
La Letra
There comes a time [Justin Bieber]
When we heed a certain call [Justin Bieber]
When the world must come together as one [Nicole Scherzinger & Jennifer Hudson]
There are people dying [Jennifer Hudson]
And it's time to lend a hand to life [Jennifer Nettles]
The greatest gift of all [Jennifer Nettles y Josh Groban]
We can't go on [Josh Groban]
Pretending day by day [Josh Groban]
That someone, somehow will soon make a change [Tony Bennet]
We are all a part of [Mary J Blige]
God's great big family [Mary J Blige]
And the truth, you know love is all we need [Mary J Blige]
We are the world [Michael Jackson]
We are the children [Michael Jackson]
We are the ones who make a brighter day [Michael Jackson and Janet Jackson]
So let's start giving [Michael Jackson and Janet Jackson]
There's a choice we're making [Barbra Streisand]
We're saving our own lives [Barbra Streisand]
It's true we'll make a better day [Barbra Streisand]
Just you and me [Barbra Streisand]
Well, send them your heart [Miley Cyrus]
So they'll know that someone cares [Miley Cyrus]
So their cries for help [Enrique Iglesias]
Will not be in vain [Enrique Iglesias]
We can't let them suffer [Nicole Scherzinger]
No we cannot turn away [Nicole Scherzinger]
Right now they need a helping hand [Jamie Foxx]
Nou se mond la [Wyclef Jean]
We are the Children [Wyclef Jean]
We are the ones who make a brighter day [Adam Levine]
So lets start giving [Adam Levine]
There's a choice we're making [Pink]
We're saving our own lives [Pink]
It's true we'll make a better day [BeBe Winans]
Just you and me [BeBe Winans]
When you're down and out [Michael Jackson]
There seems no hope at all [Michael Jackson]
But if you just believe [Usher]
There's no way we can fall [Usher]
Well, well, well, well, let us realize [Celine Dion]
That a change can only come [Celine Dion]
When we stand together as one [Fergie]
We are the world [Todos]
We are the children [Todos]
We are the ones who make a brighter day [Todos]
So let's start giving [Todos]
Got to start giving [Nick Jonas]
There's a choice we're making [Todos]
We're saving our own lives [Todos]
It's true we'll make a better day [Toni Braxton]
Just you and me [Toni Braxton]
We are the world [Mary Mary]
We are the children [Mary Mary]
It's for the children [Tony Bennet]
We are the ones who make a brighter day [Isaac Slade]
So lets start giving [Toni Braxton]
There's a choice we're making [Lil' Wayne]
We're saving our own lives [Lil' Wayne]
It's true we'll make a better day [Lil' Wayne]
Just you and me [Lil' Wayne]
We are the world [Todos]
We are the children [Todos]
We are the ones who make a brighter day [Todos]
So let's start giving [Todos]
There's a choice we're making [Akon]
We're saving our own lives [Akon]
It's true we make a better day [Akon]
Just you and me [Akon]
We are the world [T-Pain]
We are the children [T-Pain]
We are the ones who make a brighter day [Todos]
So let's start giving [T-Pain]
Choice were making [Jamie Foxx imitando a Ray Charles]
Saving our own lives [Jamie Foxx imitando a Ray Charles]
It's true we'll make a better day [Jamie Foxx imitando a Ray Charles]
Just you and me [Jamie Foxx imitando a Ray Charles]
[Rap: LL Cool J, Will.I.Am, Snoop Dogg, Busta Rhymes y Swizz Beatz]
We all need somebody that we can lean on
When you wake up look around and see that your dream's gone
When the earth quakes we'll help you make it through the storm
When the floor breaks a magic carpet to stand on
We are the World united by love so strong
When the radio isn't on you can hear the songs
A guided light on the dark road your walking on
A sign post to find the dreams you thought was gone
Someone to help you move the obstacles you stumbled on
Someone to help you rebuild after the rubble's gone
We are the World connected by a common bond
Love the whole planet sing it along
We are the world [Todos]
We are the children [Todos]
We are the ones who make a brighter day [Todos]
So let's start giving [Todos]
There's a choice we're making [Todos]
We're saving our own lives [Todos]
It's true we make a better day [Todos]
Just you and me [Todos]
Everyday citizens [Kanye West]
Everybody pitching in [Kanye West]
Nou se mond la [Chicos]
Nou se la mond [Wyclef Jean]
Nou se timoun yo [Chicos]
Nou se timoun yo [Wyclef Jean]
You and I [Will.I.Am]
You and I [Will.I.Am]
Uh, 12 days no water [Kanye West]
What's your will to live? [Kanye West]
We amplified the love we watching multiply [Will.I.Am]
Feeling like the Worlds end [Kanye West]
We can make the World win [Will.I.Am]
Like Katrina, Africa, Indonesia [Will.I.Am]
And now Haiti needs us, they need us, they need us [Will.I.Am]
We are the world [Todos]
We are the children [Todos]
We are the ones who make a brighter day [Todos]
So let's start giving [Todos]
There's a choice we're making [Todos]
We're saving our own lives [Todos]
It's true we make a better day [Todos]
Just you and me [Todos]
Haiti, Haiti, Ha, Ha, ha, ha, ha [Wyclef Jean]
Haiti, Haiti, Ha, Ha, ha, ha, ha [Wyclef Jean]
Haiti, Haiti, Ha, Ha, ha, ha, ha [Wyclef Jean]
Haiti, Haiti, Ha, Ha, ha, ha, ha [Wyclef Jean]
Haiti, Haiti, Ha, Ha, ha, ha, ha [Wyclef Jean]
Haiti [Wyclef Jean]